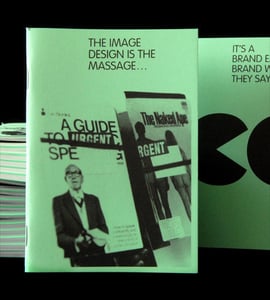 $

25.00
The studio Awards winning books can be yours.
– It's a brand eat brand world / 72 pages printed in luscious b/w
– The image is the message / 72 pages printed in luscious full colour
– crossing 15 years
– four essays
– 1 diagram
– 136 pages of Australian creativity
Hot off the press, a hand finished batch of our brand and imaging making publications are here. Printed in wonderful fine offset by our friends Gunn & Taylor, 136 pages, across ten years – a look book our brands and image campaigns awaits.
Two A6 publications / brands and image making / 72 pages of fantastic collaborations and work