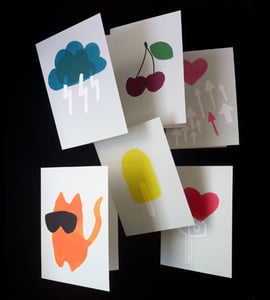 $

30.00
Summer 2013 greetings...
Relaunching Valentines 2013, this range has us thinking of pets, tasty things, colour and muted grey romps in the burbs.
21 ROCKING CARDS TO CHOOSE FROM
See our website download the catalogue and eform
* * * * *
6 greeting card pack include:
— 6 x cards of your choice
— 6 x envelopes
Shipped in a Studio Pip and Co. package
Each card is :
— 125 x 170mm folded, 4 pages
— on demand full colour printing
— 320gsm uncoated paper
— made in Melbourne
— 1 unit : card, envelop $5.00 inc GST
Also
Wall posters – any design, signed.
Full colour + white ink on cream toothy acid free paper 320 gsm,
— $75 per print – 320mm x 450mm sightly bigger than A3
— $50 per print – 220mm x 320mm sightly bigger than A4
WE LOVE YOUR ORDERS
Keep a few cards in the top draw for that last minute special thought.
Stock our cards for retail domination.
Six to 500 cards are made to order and delivered in 7 to 10 days.
VISIT OUR WEBSITE FOR MORE
http://workartlife.com/
NEXT STEPS
— Select a minimum of 6 designs, or
— Select pack options + fill out our eform
Pay at Big Cartel and we'll do the rest.
Cheers and good karma